Studio "Terres de Chabrouillas"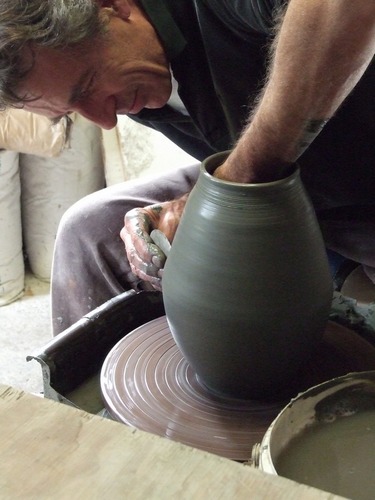 The pottery studio Terres de Chabrouillas, open since 1996 in the hills north of Bergerac (France) is where Laurent Merchant produces his fine tableware and one of a kind ceramic pieces. He also continues to produce sculptures as well as his unique ceramic singing bowls.
After spending the 80's in California where he opened his first workshop Osage Pottery in the town of Sonoma, Laurent returned to Dordogne where he'd spent parts of his childhood. He established this workshop in the early 90's and has lived and worked here ever since, surrounded by the fields and forest at the heart of his inspiration.
if you're visiting the Dordogne and would like to venture off the beaten path, come and discover the potter's studio. You'll find a showroom and a wide selection of ceramic works, from the functional to the purely artistic. Visitors are welcome but it's always a good idea to call ahead and make sure we'll be around.